The Governors Standard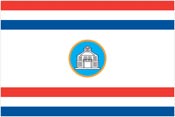 The Flag of the Governor is referred to as the standard of the Governor of Sint Maarten. The description by Royal Decree of September 20, 2010 of the standard which was granted to the Governor is as follows:

A rectangular flag with a length in relation to the height of 3:2, with at the top and bottom in sequence a red, a white and a blue stripe in the colors of the Dutch flag, each with a width equal to one-twelfth (1/12) of that of the flag. The upper and lower three stripes are separated by a white stripe, with affixed in its middle a circular area with a diameter of five-twelfth (5/12) of the height of the flag. The circular area is azure-blue, circled with orange and with a white courthouse in the center. The colors in the circular area are carried out in the colors of the court of arms of Sint Maarten.

The Governor's flag is flown from the Governor's official Residence when the Governor is in Sint Maarten. A small version of the flag is also flown from the Governor's car.
Disclaimer: The information contained in this website is provided for general information and is only intended as such. The information provided is not legally binding. The Office of the Governor of St. Maarten is not liable for any damage that may occur due to ambiguity or incompleteness of the data contained in this website.